The pros and cons of selling on eBay vs Amazon
In this article we are going to look at the pros and cons of selling on eBay vs Amazon. We are going to cover as many aspects as possible from fees and shipping to restrictions. If you have been confused as to which way to go when it comes to selling online, then this should give you some great information to use when deciding. Let's get straight into it.

eBay vs Amazon with regards to Fees, Pricing and Buyers
Let's look firstly at the fees for selling on eBay vs Amazon. eBay's fees are virtually always lower than Amazon's, eBay is the clear winner overall when it comes to fees. eBay charges a flat 10% in commissions plus payment processing fees which are typically an additional 2.9% from PayPal and Amazon typically charges a 15% commission which includes payment processing fees

What about pricing between the two, eBay has lower prices but they don't necessarily mean higher profits, eBay sellers have to offer lower prices in order to compete with a much larger group of sellers.
When it comes to number of buyers, according to the most recent reports of user numbers; Amazon has more than 300 million whilst eBay has more than 180 million, so Amazon has way more buyers than eBay. Overall though, eBay is still very big relative to the other top ecommerce sites, it is still 70% bigger than the third largest ecommerce site, Walmart.
Does eBay and Amazon have competition?
would automatically have lower competition but that's not necessarily the case, though. Amazon has developed a bad reputation for stealing product ideas from third-party sellers and given their immense weight with suppliers and the fact that you're competing with them on their own marketplace, they're often impossible to outdo. In short that means that with eBay, you have many more competitors but with Amazon, you could be facing an absolutely unbeatable competitor.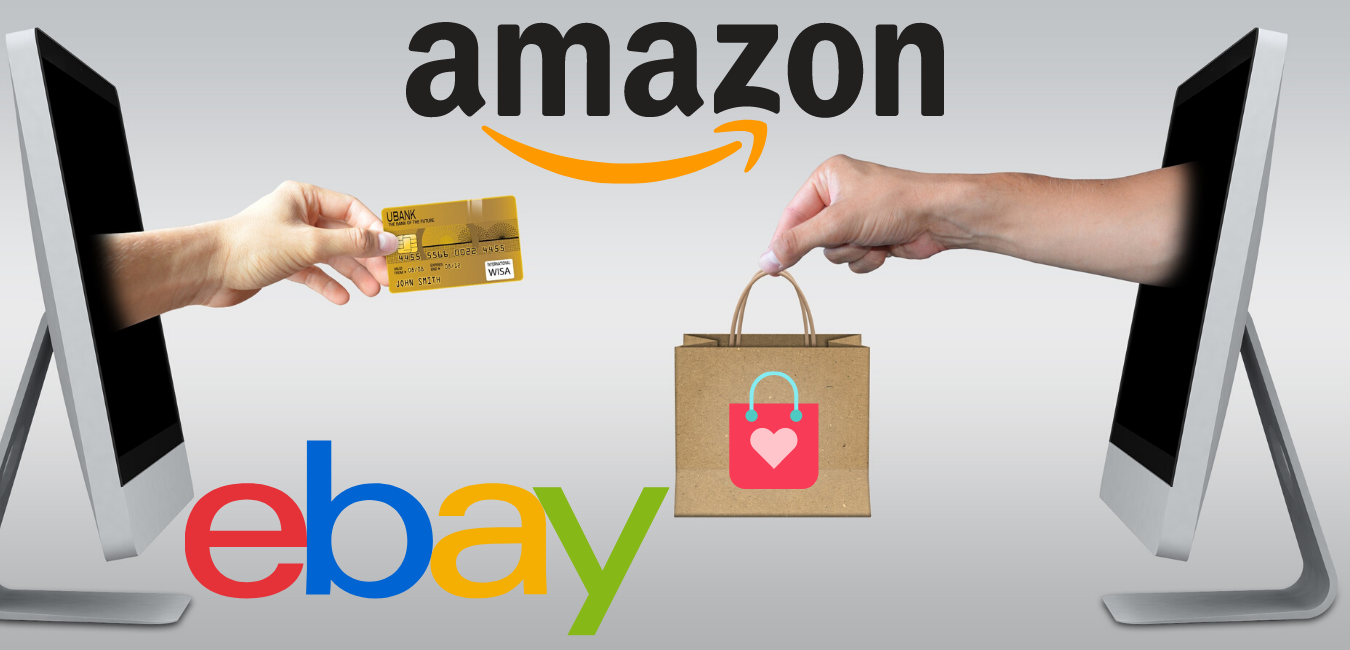 What Services do these two giants offer?
Services
Let's talk about services now, both Amazon and eBay offer services to make selling easier, the biggest ones are:
eBay's Global Shipping Program: U.S. sellers can skip the legal challenges normally involved in shipping internationally. Just ship the package to the Global Shipping Center in Kentucky and eBay takes care of the rest.
Fulfillment by Amazon

You list the item on Amazon and ship it to an Amazon fulfillment center, and they take care of everything from delivery to customer service. This is a great service but unfortunately its high fees (you will also be responsible for storage fees which are expensive) and the associated tax headaches make many sellers question whether it's worth it.
Selling Formats
When it comes to selling formats, Amazon only lets you sell at a fixed price, where eBay lets you auction items off or sell them at a fixed price which means for antiques, collectibles, and many other rare or one-of-a-kind items, eBay's auctions can fetch a much higher price than a fixed-price listing.
Payment eBay vs Amazon

Payment time is one area where eBay is much better than Amazon, with eBay you get paid the second a buyer purchases your item; whereas Amazon you do not get paid until after the buyer has purchased the item and Amazon has shipped the item to the buyer and there's also a holding period of approximately two weeks on your funds
Restrictions
Another important consideration is that Amazon has far more restrictions than eBay, here are some examples:
eBay allows you to create your own return policy. If you sell on Amazon, your return policy must be as good as or better than their own eBay lets you set your own shipping charges where Amazon restricts you to specific shipping rate systems or standardized shipping credits that often don't cover the actual cost of shipping.
On Amazon, if you're selling a product that's already sold on the site, you have to use the existing listing for it. This can save you a lot of time, but it's frustrating if the listing has bad Amazon SEO or is poorly written, while eBay leaves you largely in control of your own listings.
A plus with eBay is that it gives you the seller more power, because you set your own returns policy and shipping charges and create your own listings.
On top of this you have lower fees to pay and can therefore offer more competitive prices. If you like not being restricted, you'll find eBay to be your favorite marketplace and of course it's a no-brainer if you want to auction something. If there is a drawback for eBay it has to be in terms of management, their product management system may be slightly more complicated than that of Amazon; who have an extremely easy to use product management system.
It has to be said that Amazon is a model of efficiency where you can start selling already-listed products in a flash to instantly get your product in front of a larger audience than you're likely to find anywhere else, but remember this will only work for you if you are able to deal with all the strict requirements.
Another drawback for Amazon is the fact that they own the customer in every regard and they hide everything about the customer, most importantly their email address. With eBay you have a lot more flexibility, including getting access to their email address.

Amazon also has a reputation for suspending buyers, often with little cause or warning and when that happens they immediately freeze your funds and give you little feedback.
I hope that you have been able to take a lot from this article on Selling on eBay vs Amazon and that it will help you in deciding which way to go.

There are many things to consider when making your decision, I wish you luck and successful trading. Thank you for your time, I have included some useful links BELOW if you feel you would like to fast track your selling on eBay, feel free to take a look at these.
The eBay Sales System (eBus) is an internet training system teaching you how to make money on-line selling from the eBay platform. A product by Barry Plaskow and his team of systems specialists.